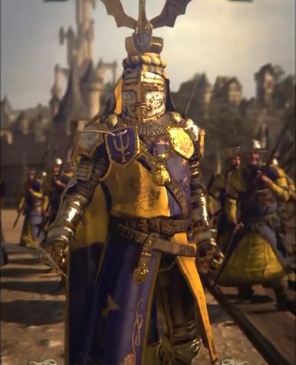 Alberic is the current Duke of Bordeleaux, Bretonnia. He is renowned for his personal courage and astounding self-discipline. He is also notorious for expecting all of his household knights to reach the same standard and for dismissing those who do not. As a result, he has the smallest household of any of the Dukes, but the knights there are some of the greatest in the realm.[1a]
The Duke has always wanted to go on the quest for the Grail, but his father died when he was still out on his errantry tour, and Alberic has never felt able to hand the responsibilities of the dukedom on to someone else. His eldest son, Frermund, would be a fine candidate, but he left on his own Grail Quest. This and the Duke's advancing age seem to have pushed him to do more than wish; solid rumour suggests that he is looking for a reliable steward to run the dukedom in his absence.[1a]
Upon Alberic's tunic is proudly displayed the crest of Bordeleaux - the tri-forked Trident of Manann, god of the waves and storms. Like Manann, Alberic of Bordeleaux is tempestuous as the sea; as relentless as the tide. He is strict and courageous, hailing from a long line of powerful Dukes who have led Bordeleaux, with the patience of the unremitting ocean, to security and prosperity; Alberic intends to be no different. Much like the waves that crash endlessly against the Bretonnian shore, so too does Alberic never cease. Whilst many do not see his progress, it is affected slowly but with the inevitability of nature.[2]
Items & Abilities
As a Bretonnian Lord, Alberic was expected to be a fine warrior, furthermore he was obsessed with training to the utmost perfection.
The "Wrath of Manann", is a mighty weapon, those struck by the Sea God's trident are swept away by a crushing tide of furious wrath.
Source