"A Blood Dragon should strive for excellence in all matters, but especially in the martial pursuits. Countless Knights and Warriors have I bested in battle, and many more come in hopes of slaying me each year. Unlike them, the passage of the ages strengthen me. You can never know what it is to know what certainty that one's skill with blade and bow increases year upon year, instead of deteriorating into middle age, dotage, and eventually death. That in itself is reason enough to give up mortal life and take up the eternal challenge of immortality..."

—Sir Holbein of Blood Keep, Blood Dragon Champion[2a]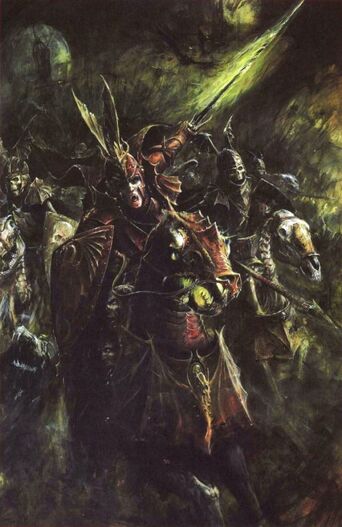 Blood Knights were among the most fearsome cavalry in all of the Old World, first created by the mightiest Vampire, Abhorash.
Overview
Edit
Their training and discipline in life was enhanced by the unnatural speed and strength of the vampiric curse. Blood Knights were nigh indestructible, riding with fangs bared through storms of arrow and shot. Such was their honour that they would refuse no martial challenge, and would fight at the forefront of an Undead army without question. It was said that even the fabled Grail Knights of Bretonnia could not match the Blood Knights lance for lance upon the field. Despite this rumour, such beings had proven to be a deadly anathema to vampires, and simply being near them could induce great pain. Their armour is encrusted with images of death and slaughter. Their blades are fell weapons inscribed with dark runes, chased with precious metals and fashioned in the likenesses of evil beasts. The knights do not ride mortal steeds, but charge across the field upon evil Nightmares that are clad in thick barding painted with disturbing icons of necromantic power.[1][3][4]
To Blood Knights, every Human in the world can be broken down into two categories: a worthy opponent or a training dummy. The only time a Knight might show mercy is if he encountered an opponent who has great potential to one day be a worthy opponent; it may be better to let such a mortal become something interesting rather than snuff him out with the rest of the vermin. Despite their aloof nature and singular obsession, they sometimes attract followers. If a Blood Knight finds fame with his particular approach to the quest or a devastating new combat style, others may flock to imitate and learn. So it is that new orders spring up or take root in already existing orders or organisations. The infamous Red Duke of Aquitaine was such a creature, beginning as a lone knight but ending up with an entire army at his command, both mortal and immortal, as word of his martial skill spread across Bretonnia. The Knights of Irrana were a mortal order of Estalian knights until their grand master concluded that the techniques of Abhorash far outstripped those of Myrmidia and brought his whole unit into the darkness to join him. And there are many more such groups, small and large. The rest are lone hunters, renegades and vagabond knights who roam the Old World alone and unaided. Sometimes they are found guarding remote bridges or fords, testing all who would cross in mortal combat. Others live an austere existence in high mountain fortresses or secret caves, perhaps training those who have the tenacity to seek them out or perhaps just killing them for food. Alternately, they may hide amongst Humans, mixing with the noble classes or slipping amongst the ranks of knightly or monastic orders. A Blood Knight will be anyone as long as it allows him to practice his swordplay and feed when needed.[5]
 Notable Blood Knight Orders
Edit
Notable Blood Knights
Edit
Miniatures
Edit
Ad blocker interference detected!
Wikia is a free-to-use site that makes money from advertising. We have a modified experience for viewers using ad blockers

Wikia is not accessible if you've made further modifications. Remove the custom ad blocker rule(s) and the page will load as expected.