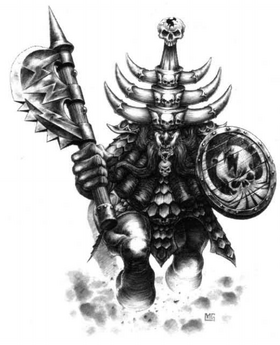 Bull Centaur Taur'ruks, also known as Bull Centaur Lords is the title given to the largest and most powerful of the Bull Centuars, hulking and savage creatures that are just as keen witted and intelligent as their bipedal brethren. Bull Centaurs serve the Legion of Azrogh as shock troops and temple guardians, and to them was entrusted the protection of the sacred fans of Hashut, as they more than any other had been twisted into the closest semblance of the Father of Darkness' image.
Miniatures
Source
Ad blocker interference detected!
Wikia is a free-to-use site that makes money from advertising. We have a modified experience for viewers using ad blockers

Wikia is not accessible if you've made further modifications. Remove the custom ad blocker rule(s) and the page will load as expected.