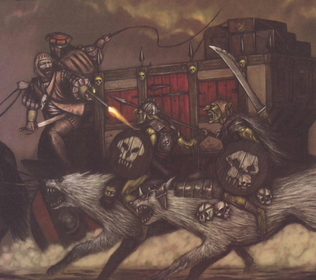 Coaches are the best way to get around in the Old World. Though expensive, they are comfortable and well guarded. Furthermore, they are faster than most other means of travel, though riding a horse will certainly out-distance a laden coach. Coaches are covered wagons with a springy suspension that absorbs most of the shock caused by bad roads and potholes. The interior of wagons varies depending on craftsmanship, but even the most ordinary coaches have cushioned seats, while the better services offer refreshments and lighting. At most, a coach can carry 12 passengers, and that's with riders on top of the coach.[1a]
Ad blocker interference detected!
Wikia is a free-to-use site that makes money from advertising. We have a modified experience for viewers using ad blockers

Wikia is not accessible if you've made further modifications. Remove the custom ad blocker rule(s) and the page will load as expected.