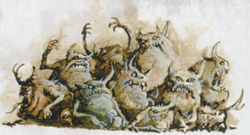 Caught up in all the excitement, nurglings boiled through the Gate Between Worlds. Upon their arrival in Altdorf they engaged themselves in all manner of serious business; splashing, capering, gurning, biting, farting, playing tug-of-war with their own intestines and generally ensuring the suffocating order and pomp of the Empire's capital was replaced by a riotous celebration of life in all its forms.[1a]
Ad blocker interference detected!
Wikia is a free-to-use site that makes money from advertising. We have a modified experience for viewers using ad blockers

Wikia is not accessible if you've made further modifications. Remove the custom ad blocker rule(s) and the page will load as expected.