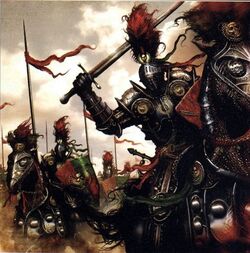 The Black Guard of Morr take their name from the massive suits of plate mail armour they wear, ornately crafted from pieces of obsidian. Obsidian armour is bulky, but the sinister appearance it gives its wearer strikes fear into the hearts of all who face them in battle. Obsidian armour is almost always worn as a full suit—the disadvantages caused by its bulk make it impractical to use without the advantage of the intimidation factor.[1a]
Ad blocker interference detected!
Wikia is a free-to-use site that makes money from advertising. We have a modified experience for viewers using ad blockers

Wikia is not accessible if you've made further modifications. Remove the custom ad blocker rule(s) and the page will load as expected.