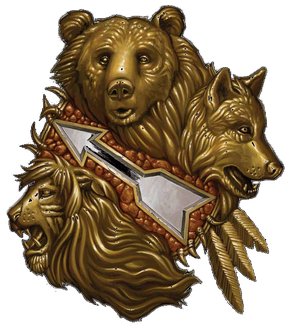 Ghur, the Lore of Beasts is the Brown Wind of Magic which is often called the Aethyr's wild and bestial spirit. Ghur is used by the feral Amber Wizards to shape spells of beastcraft and communion. In strange shamanic rites, these Magisters can call Ghur into their bodies, allowing it to shape them into wolves and ravens, clawed savages and gentle horse whisperers. It is known as a savage Wind, the antithesis of civilization and domestication, as primal and unreasoning as it is devoid of malice.
Ghur is attracted to animals and wild places in equal measure, retreating from the ordered existence of man and his cities. This is reflected in the misanthropic ways of the Amber Wizards — shunning civilization for the wild mountains and moors, where the Wind of Ghur blows free.
Amber Magic
Ghur's Magisters have embraced the savage Brown Wind of Magic, allowing them to have control over all manner of wild beasts and even communicate with them. Amber Magisters can also call upon the attributes of various spirits of the wild and are able to summon the strength of the bear, the swiftness of the hare, the eyesight of an eagle, and the heightened senses of smell and hearing of the wolf. Amber Magisters are said to be able to shape-shift, travelling on the paws or wings of wild creatures and birds if they so desire.
The Amber Brotherhood uses the Brown Wind to call upon the power of the wild spirits of nature. Their world vision is an animistic one, where every living thing, every plant, every animal and insect, and even the soil itself, has its own independent living spirit. The world through the eyes of an Amber Magister is a hard one, where the spirits of all living things must compete to live. It is a world of survival only for the fittest; where every creature has its place as predator or prey.
Amber Magisters are said to be able to merge their spirits with those of animals and go on vision-quests to learn more about themselves, the land, the ways of the spirits and how they can be pacified or bound.
List of Known Spells
The Lore of Beasts, also known as Amber Magic, totemcalling and shapeshifting is the set of magic spells that drink from the wild Wind of Ghur.[3a]
A
B
C
F
H
K
L
M
O
P
R
S
T
V
W
Unnamed Spells
Source