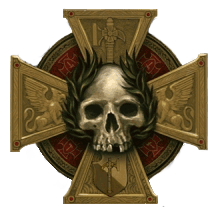 The Grand Theogonist is the head of the Cult of Sigmar and most important religious official in The Empire. He is one of the Emperor's staunchest allies and most trusted advisers. He is also one of the Electors, meaning he is able to vote for the next emperor (invariably, his vote goes to the Count of Reikland).
Badges of Office
Edit
The Jade Griffon is a massive amulet of jade in the shape of a griffon said to be blessed by Magnus the Pious. The Grand Theogonist wears it on his chest.
The Staff of Command is a staff with a griffon carved on top. It imbues the Grand Theogonist with inhuman strength.
Known Grand Theogonists
Edit
Warhammer Armies: The Empire (8th Edition)
Marienburg: Sold Down the River
Warhammer Armies: Daemons of Chaos (8th Eiditon)
Warhammer Armies: Vampire Counts (7th Edition)
Mordheim Core Rules
Liber Chaotica
Van Horstmann (Novel)
White Dwarf 197
Archaon: Everchosen (Novel)
Warhammer: Nagash
Ad blocker interference detected!
Wikia is a free-to-use site that makes money from advertising. We have a modified experience for viewers using ad blockers

Wikia is not accessible if you've made further modifications. Remove the custom ad blocker rule(s) and the page will load as expected.