Attention, Empire Citizens!

This article must be worked on to expand, correct or cite its contents. Please contact and

join the Crusade

to help us with it!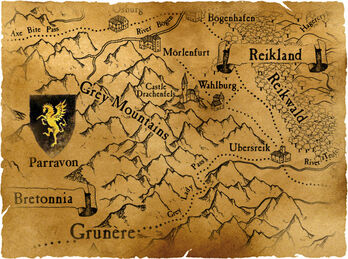 The Grey Mountains are the mountain range forming the border between the Empire to the east and Bretonnia and the Forest of Loren to the west, and are mainly inhabited by Grey Dwarfs and human mountaineers. It stretches out from the Vaults in the south to the Pale Sisters in the north close to the Sea of Claws. One pass bridges it, the Axe Bite Pass which is guarded by many fortress cities, such as Montfort, and ends close to the great city of Parravon at the Bretonnian side while at the side of the Empire it is flanked by the stout fortress-city of Helmgart in Reikland.
Ad blocker interference detected!
Wikia is a free-to-use site that makes money from advertising. We have a modified experience for viewers using ad blockers

Wikia is not accessible if you've made further modifications. Remove the custom ad blocker rule(s) and the page will load as expected.