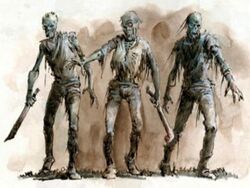 The Empire town of Grolbech was unfortunate enough to be in the path of Nagash's army as it marched southwards, heading for Black Fire Pass. The town was razed and its people turned to zombies to join the force. They gained their regimental name after emerging out of the Marshes of Madness – for the foul algae there had dyed their undead flesh a truly sickly, if remarkable colour. For a banner they carried a pole topped with the torso and head of the priest of Sigmar who had attempted singlehandedly to turn back the undead host. Now zombified flesh, the old priest moaned and struggled against the cords that bound him to his pole. It is possible that, before his mouth filled with swamp mud and befouled water weeds, the priest's words were coherent. If indeed he still maintained his rightful mind, then truly was he cursed to a hideous fate.[1a]
Ad blocker interference detected!
Wikia is a free-to-use site that makes money from advertising. We have a modified experience for viewers using ad blockers

Wikia is not accessible if you've made further modifications. Remove the custom ad blocker rule(s) and the page will load as expected.