"Fear, stupid man-thing. We make better. Improve-improve. Pain-pain. But, better-better! "

—Tichit, Master Moulder[1b]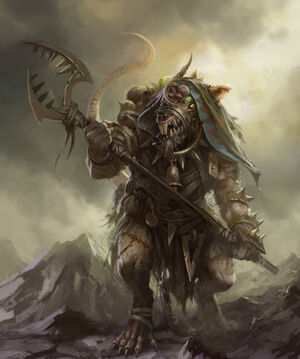 Master Moulders
are the senior-ranking members of
Clan Moulder
, a rank just above the more common Packmasters. The things created by these sadistic vermins within Clan Moulder's laboratories frighten even the powerful
Grey Seers
. Nothing is sacred to these vile
Skaven
. They blend the parts of hundreds of creatures to create something bigger, better, and stronger, a horror that will safeguard Moulder's place at the top of the Under-Empire's cruel militaristic hierarchy.
[1a]
[1b]
Through the techniques of fleshmoulding, these Master Moulders create a menagerie of deadly creatures. Ever evolving, this process involves a combination of surgery and exposure to warp energy to create something new and terrifying. Trained in flesh-shaping techniques passed down generation after generation, they are responsible for Giant Rats, Rat Ogres, and any number of other abominations.[1a][1b]
These burly commanders often personally lead their beasts to battle to better inspect the performance of both pack and Packmaster. Master Moulders instill great control and discipline in a pack, largely on account of their ability to cause even more severe pain. Many Master Moulders bear unique (if not downright horrific) tools of their trade, such as the things-catcher - a wicked looking prod with a mechanical grabber.[2a]
1 Warhammer Fantasy RPG 2nd ED -- Children of the Horned Rat
Ad blocker interference detected!
Wikia is a free-to-use site that makes money from advertising. We have a modified experience for viewers using ad blockers

Wikia is not accessible if you've made further modifications. Remove the custom ad blocker rule(s) and the page will load as expected.