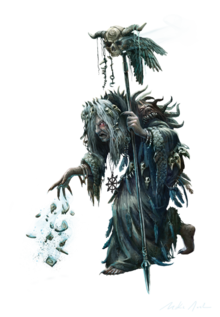 Seers are self-appointed authorities on all matters involving the spiritual world. They can be found in marketplaces of any town, proclaiming their latest revelation to anyone who will listen. Since Seers operate outside the bounds of sanctioned religious laws, and purport to understand the will of the Gods, they are easy targets for persecutions by Witch Hunters, who don't draw a line of distinction between the authentic seers and the charlatans. In Norsca, however, Seers are valued members of a Jarl's entourage, reading the signs and portents in the entrails of their sacrifice or translating the flickers of fire to divine some glimpse of future events.[1a]
Ad blocker interference detected!
Wikia is a free-to-use site that makes money from advertising. We have a modified experience for viewers using ad blockers

Wikia is not accessible if you've made further modifications. Remove the custom ad blocker rule(s) and the page will load as expected.