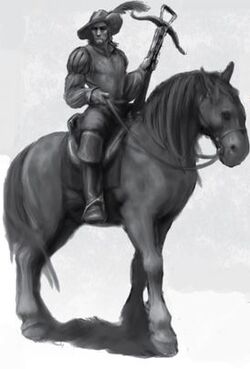 Outriders are experienced outdoorsmen who reconnoitre for armies, caravans, and other travelling parties. They are the eyes and ears, constantly on the lookout for ambushes and other hazards. Because they operate in advance of the main party, they must be self-sufficient and level-headed. Outriders must trust their instincts and make their own decisions, because they have no one else to turn to when they are alone in the wild. Most Outriders operate in home area and use their intimate knowledge of the locale to their advantage. A few specialize in trailblazing, riding ahead into unknown and hostile territory. These Outriders earn more money for their services, but their life expectancy is short.[1a]
Ad blocker interference detected!
Wikia is a free-to-use site that makes money from advertising. We have a modified experience for viewers using ad blockers

Wikia is not accessible if you've made further modifications. Remove the custom ad blocker rule(s) and the page will load as expected.