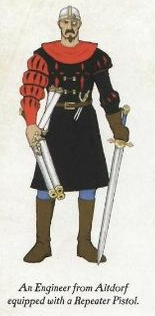 The Repeater Pistol, also known as Von Meinkopt's Micro-Mainspring of Multitudinous Precipitation of Pernicious Lead, is a smaller version of the Repeater Hand Gun, and is fired in one hand, leaving the other free to wield a sword. The weapon has a shorter range than the Repeater Hand Gun but it has the advantage that it can also be used in hand-to-hand fighting. It is favoured by senior members of Engineers School such as Steam Tank Commanders.[1a][3a]
Ad blocker interference detected!
Wikia is a free-to-use site that makes money from advertising. We have a modified experience for viewers using ad blockers

Wikia is not accessible if you've made further modifications. Remove the custom ad blocker rule(s) and the page will load as expected.