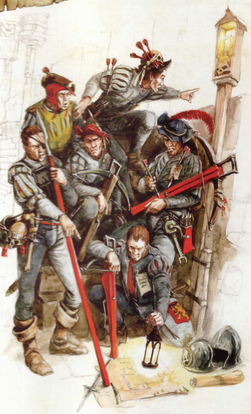 The
Sterntower Marksmen
are a newly formed regiment out of
Steingart
. They are garrisoned as part of the line of sentry post and signal towers that guard the low foothills of the eastern
Wissenland
, under the shadow of the imposing
Black Mountains
. Always at the ready to launch their signal flares to signify invasions, the watchtowers are essential for border defence.
The Marksmen share the Sterntower with several other Imperial regiments - Halberdiers and Spearmen - with whom they have established a front-line camaraderie. Sergeant-at-Arms Hans Schwarzblut is the tower officer, in command of the Sterntower Marksmen and a unit each of Halberdier and Spearmen. He is a veteran of many battles against marauding Orcs and his tight discipline keeps all the troops at high alert. Unwilling to sit and wait, Schwartzblut often orders patrols up into the narrow mountain passes.
Ad blocker interference detected!
Wikia is a free-to-use site that makes money from advertising. We have a modified experience for viewers using ad blockers

Wikia is not accessible if you've made further modifications. Remove the custom ad blocker rule(s) and the page will load as expected.