Attention, Empire Citizens!

This article must be worked on to expand, correct or cite its contents. Please contact and

join the Crusade

to help us with it!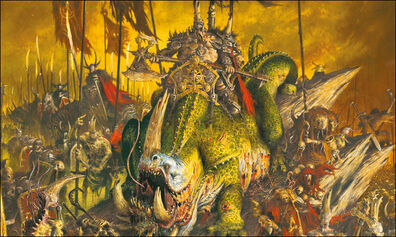 The fell legend of Tamurkhan has been whispered for many centuries amongst the nefarious tribes of the Chaos Wastes. Some tales speak of him as a scion of the Great Kurgan, one of four sons each cast to the four winds to conquer and enslave. Others claim that he was once no more than vermin – a corpse-canker grown fat and clever on the spoils of the battlefield, swelled and transformed by the light of the Ruinous Powers. Perhaps the most fell creature under his command is the mighty Toad Dragon Bubebolos, a huge, reeking, primeval horror and greatest of all its bloated kind.
Warhammer Armies: Warriors of Chaos (8th Edition)
pg. 15
Warhammer Expansion: Tamurkhan - Throne of Chaos
Chapter One
Chapter Two
Chapter Three
Chapter Four
Chapter Five
Chapter Six
Ad blocker interference detected!
Wikia is a free-to-use site that makes money from advertising. We have a modified experience for viewers using ad blockers

Wikia is not accessible if you've made further modifications. Remove the custom ad blocker rule(s) and the page will load as expected.