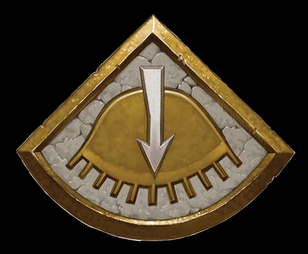 "Upon the closest examination, nothing is truly as it seems. A shadow is not the perfect reflection of the man casting it. Nor is the man the perfect reflection of his own shadow."

—Gavius Klugge, Grey Wizard[8]
Ulgu, the Lore of Shadows is the Grey Wind of Magic, and one which is the Aethyr's reflection of and reaction to the experience of being lost or confused. This Wind is full of unseen depths, plots, shadows, and illusion. Grey Wizards weave Ulgu into elaborate spells that wreathe them in its mysterious presence. This Lore of Shadows contains spells of darkness, invisibility, shadowy death, and panicked bewilderment.
Ulgu appears to those with witchsight as a thick, impenetrable fog rolling across the earth, invoking a sense of mistrust and confusion in ordinary people who pass through it. Ulgu is drawn to the natural mists and fogs of the mortal world, where it hangs upon the quiet chill of the air, wrapping all in smoky shadows. Ulgu is also drawn to deceptions, mystery, and illusions. Dawn at an ancient stone circle will likely see strands of Ulgu slinking betwixt the monoliths, gradually flowing away as the light of day, and the time of Hysh, grips the land.
Ulgu works subtle changes upon those who call upon its powers — rendering them as mysterious, puzzling, and fleeting as the spells that they call upon. The Grey Order of Wizards use this to their own unknowable ends, acting, hopefully, for the greater good beneath the veil of shadows Ulgu provides. It is hard to remember the face of a Grey Wizard — harder still to track his steps. Those that have tried have returned confused, moon-struck, or occasionally dead.
Grey Magic
The Lore of Shadows, also known as legerdemain and phantasmancy[3a], is a magic formed from the drives, purposes, and predispositions of the Grey Wind. It is the lore of illusion, confusion, and concealment. It is commonly referred to as Shadowmancy.
Shadowmancy, then, is the catchall term given to describe the arts of illusionism, which is the branch of magic dealing with the deception of the senses. The Grey Order's Shadowmancers seem to bring nightmares alive and the sweetest dreams into reality. They are masters of appearances and sculpting lies.
Naturally, Shadowmancy offers great benefits on the battlefield, where the number of friendly troops can be made to appear far fewer, far greater, or far more fearsome. However, the secret role of the Grey Order's Shadowmancers is far more sinister.
List of Known Spells
Note: the following spells have been limited to fluff material only, and the translation thereof.
A
B
C
D
E
F
G
H
I
L
M
O
P
R
S
T
U
V
W
Source