The Isle of Ulthuan, known alternatively as the Ten Kingdoms, is the ancestral home of the Elven race, and is currently inhabited by the High Elves. Ulthuan forms a hollow ring of land, surrounding an inner sea. This inner sea is accessible only at the Straits of Lothern, in the south of the island.[1a]
Ulthuan is split up into provinces, each with its own character and ways of waging war. Ulthuan was shattered in the distant past, during the Sundering with the Dark Elves, and much of its North and Western coasts now lie underwater. The eastern approaches are protected by the Shifting Isles, a treacherous maze of magical mists and moving sandbanks. Ulthuan is also home to the majority of the world's remaining Dragons, who slumber under the volcanic mountain ranges of the Dragon Spine Mountains in Caledor.[1a]
Government
Edit
Ulthuan is ruled by a collection of princes, princesses and mages, above whom preside the Phoenix King and the Everqueen. The relationship between these rulers is not as simple as the titles would suggest. The kingship is elective while the queenship is hereditary, and both monarchs maintain entirely separate courts. The Everqueen is always the Queen of Avelorn. Her realm is the site of the principal shrine of the Earth Mother, and she is regarded as the spiritual leader of the whole Elven realm. The position of Everqueen is always taken up by the firstborn daughter of the previous queen, conceived during her year-long ritual marriage to the Phoenix King. After this formal marriage, they are free to take new consorts, but only the daughter conceived from the marriage of the Phoenix King and the Everqueen can be the new Everqueen.[1g]
Hence the Queens of Avelorn have always been the Everqueens of Ulthuan, forming an unbroken chain from ages past. By contrast, the Phoenix King is chosen from among the princes of Ulthuan, one year after the death of the previous incumbent. Each is crowned during a holy ceremony, held at the massive pyramidal Shrine of Asuryan and attended by the legions of the Phoenix Guard and the princes of Ulthuan. The process of choosing the new Phoenix King is rife with intrigue. Emotions often run hot during this fraught and delicate event. Traditionally, the last thirty days of the year of mourning are set aside for the election to take place; however, in practice the debate starts much sooner than that. Often, the politicking starts long before the reigning Phoenix King has died. High Elves love intrigue, and never is the prize greater than when a new Phoenix King is chosen.[1g]
The grandest of Ulthuan's noble families each look for their candidate to be chosen, and they vie for the support of their peers for their choice. Further to this, each realm in Ulthuan desires the new Phoenix King to be chosen from their land. So it is that rivalries are set aside — or created — to ensure that the agendas of the noble houses are met. For all the deception, manipulation, and chicanery employed during the election process, it is almost unheard of for the tactics employed to escalate to violence or outright sabotage. Such actions are considered heretical, for the Phoenix King is the anointed servant of Asuryan. Few high elf nobles are so consumed with victory that they could believe, even for a moment, that the Creator God would ever approve of a king selected by the ruling council under such dubious and destructive circumstances.[1g]
Location
Edit
Ulthuan is located off the eastern coast of the New World, near the isthmus linking Lustria to the northern lands of Naggaroth. The island currently lies approximately 300 miles from the New World at its nearest point, though this was less in the time before the Sundering.[1a]
Provinces
Edit
The provinces of Ulthuan are generally seperated into the Inner Kingdoms, which have part or all of their coast on the inner sea, and the Outer Kingdoms, which face the great ocean. The Inner Kingdoms are often characterised as being introverted and dreamy, while the Outer Kingdoms are more rugged and accustomed to warfare.[1a]
Inner Kingdoms
Outer Kingdoms
Notable Cities
Edit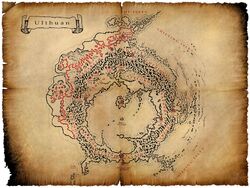 Long years of wars against the forces of Chaos, the dwarfs and the dark elves have caused the steady decline of the high elves. The cities of Ulthuan no longer bustle with life, but are mostly shells of their former glory. There are still mighty cities to be found on Ulthuan, however. The most notable are listed below:
Lothern, Eataine
Gaen Vale, Avelorn
Tor Hoeth, Saphery
Tor Caled, Caledor
Tor Elyr, Ellyrion
Tor Yvresse, Yvresse
Tor Anroc, Tiranoc
Tor Dynal, Cothique
Tor Achare, Chrace
Tor Anlec, Nagarythe (Destroyed)
Notable Locations
Edit
Ulthuan is full of places of importance, not just for the elves but the whole world. A selection of the most important are listed below:
1: Warhammer Armies: High Elves (8th Edition)
Ad blocker interference detected!
Wikia is a free-to-use site that makes money from advertising. We have a modified experience for viewers using ad blockers

Wikia is not accessible if you've made further modifications. Remove the custom ad blocker rule(s) and the page will load as expected.