Attention, Empire Citizens!

This article must be worked on to expand, correct or cite its contents. Please contact and

join the Crusade

to help us with it!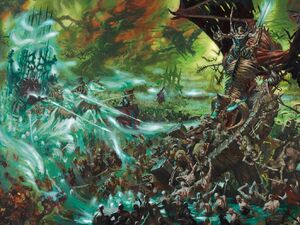 The Undead, also known as the Restless Dead or the Unliving is a term to describe all creatures that once were living, then were dead, but now are neither. Given a new half-life through the dark use of Necromancy, these damned souls are awakened from their rest to embark on dark deeds most foul for their dark masters. No pulse, no breath, no life, yet still they stir. Dead, but dreaming, they exist to plague the living with thoughts of their own mortality. With tongue-less mouths, they whisper a single name: Nagash. Nagash the Black, first and greatest Necromancer to ever stride the Old World. So great was his fear of what lied beyond the realm of flesh that he was willing to commit any blasphemy, if only he could master death.
From his researches and his rituals arose the first of the Undead. In the Empire, talk of the Restless Dead turns all eyes to the east, towards Sylvania, a cursed land and once the stronghold of the great Von Carstein Vampire Counts who have all, supposedly, been destroyed. There are few that truly believe that, for those that have returned from the grave once can surely do so again.
Known Undead
Edit
Warhammer Fantasy RPG 2nd ED -- Old World Bestiary (pg. 61).
Ad blocker interference detected!
Wikia is a free-to-use site that makes money from advertising. We have a modified experience for viewers using ad blockers

Wikia is not accessible if you've made further modifications. Remove the custom ad blocker rule(s) and the page will load as expected.