"Is it possible that the Skaven are no less than a manifestation, a dark and morbid reflection of mans cities, his civilization, even his fears? Are not the Skaven, their religion, and their foul dank world not just a growing shadow and a dark twin of mans deep and barren nature?"

—Passage from "The Malefactorum", by Professor Theodosius

The Under-Empire, sometimes known as Skavendom is the name given to the massive inter-continental underground Empire that holds uncountable miles of tunnels and passageways that stretch from the Ice-capped mountains of the north to the damp swamp lands of the south, and from the great plains of the East to the lush jungles of the West. Though arguably one of the largest and perhaps the most farthest Empire in the entire Warhammer World, the Under-Empire is by no means an entirely unified nation. Though the Council of Thirteen have direct and absolute control over Skavendom, they are utterly helpless to the great inter-clan warfare that has engulfed much of the Skavens long and arduous history. As such, the Under-Empire is in actuality a loose confederation of smaller clan-based kingdoms that are only tied together by their utter belief in the Horned Rat, and the tyrannical ruling of the Council of Thirteen.[2a]
The great city of Skavenblight acts as the one true capital of the Skaven race, and as such it is also situated at the very heart of the Under-Empire. Most of the vast territory that make up the Under-Empire are usually held by the larger and stronger of the Skaven clans, with the smaller Clan having only a territory of a mere few miles, usually at a backwater region of the Under-Empire. Most major Skaven strongholds or cities are usually within the vicinity of larger population centres like the cities of the great Clan-Empire. These cities were built for either the purpose as a staging point for an upcoming invasion of the suppose city, or rather a city that has grown fat and prosperous by the wealth these cities throw away.[2a]
Geography
Edit
"They are watching me now, I know. They are in the walls, under the stones, in the canals, everywhere. I do not know at which point I ceased to be the master and became the slave, but they have me fast in their chains. I need the powder every day now or my eyes weep and my hands shake. And they have me do things for them, as I once had them do for me—steal things, hide things, play turncoat to my own liege lord. I have thrice-damned my soul and betrayed my friends, my city and my empire to our greatest of enemies."

—Doctor Anton Wiessang, Master Necromancer, last diary entry[1a]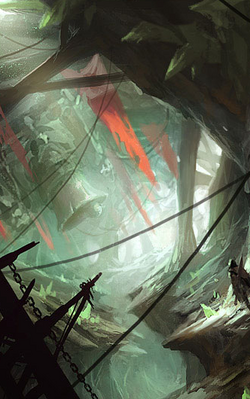 The Under-Empire stretches from one end of the Old World to the next. Its borders are not defined in the same sense as those on the surface. The fact that the Skaven have been sighted in places as far away as Araby and Cathay indicates they are indeed a widely-travelled race. Skaven do not willingly travel under the open sky of the surface world, and instead use a variety of underground avenues when moving great distances. These passageways have been millennia in the making, and the most widely-used of them have felt the pitter-patter of billions of Skaven feet over the centuries of their use. As with any surface city, the size of a Skaven settlement depends on the amounts and types of resources readily available there.[1b]
Warpstone, especially, is a prized commodity to the Skaven, and cities in proximity to plentiful Warpstone veins are often the largest and most populous in the Under-Empire. Besides this precious ore, a settlement's access to food stuffs and fresh water are also important. Other commodities, such as easy availability of captive labour, also play a role in determining how prosperous a Skaven settlement is. The Skaven's Under-Empire closely mirrors the surface world in most respects. Nearly every single unsuspecting surface city has some manner of Skaven warren nestled beneath its streets. While the size of the city does not always reflect the population of the Skaven settlement beneath it, the largest Human burgs tend to have correspondingly large Skaven populations. The Ratmen are able to gain easy access to these cities through the use of man-made tunnel systems and sewers, which the Skaven cleverly combine with their own networks of passageways.[1b]   
Weather in the Under-Empire is more or less constant. Temperature in the caverns, tunnels, and passages of the Skaven world is affected by a great many things: humidity, depth, available water sources, wind, and sources of geothermal heat. A vast cavern that teems with Skaven is much warmer than it would be otherwise, simply due to the body heat that they generate. The Skaven, having adapted to life underground, are typically comfortable under most circumstances, though, like men, they are not overly fond of extremes of either heat or cold.[1c]
Highways and Tunnel
Edit
The Skaven utilize a complex series of tunnels, passageways, and caverns to navigate between settlements, as well as between destinations on the surface. By far, the most common mode of transportation used by Skaven is shank's mare; in other words, their own two feet. As individuals, Skaven's inherent laziness and constant hunger keep them from moving about very much. When part of a large group determined to reach a goal, however, they can become both fast and tireless. The Musk of War or other variant scents, combined with the cruel whips of taskmasters and a group instinct, allow them to cover great distances with little or no rest.[1c]
Another mode of transportation used by the Skaven is the Warprail. Designed by the Warlock Engineers of Clan Skryre, the Warprail is a train driven along a system of iron rails by a massive warp-engine. Though still experimental, the Warprail has been proven to be the fastest mode of transportation in the Under-Empire—that is, when it works. Given their construction, the warp-engines powering the Warprail are prone to overheating and experience constant problems with pressure regulation. If not properly maintained, warp-engines can explode, causing a catastrophic loss of life as well as the inevitable cave-in of the tunnel they travel through.[1c]
If not for these minor setbacks, the Warprail would be the pre-eminent form of travel between major Skaven settlements. As it is, there are only a handful of Warprail engines available, and not all of them are in working order at any given time. In addition, Warprail engines require tracks laid down in stable tunnels, and thus far these only exist between major Skaven cities, such as Skavenblight, Hell Pit, and the City of Pillars. As Clan Skryre continues to perfect its warp-engine technology, additional tunnels and tracks will doubtless be implemented, allowing the Skaven to move large bodies of troops and supplies between their cities with unprecedented ease.[1c]
Settlements
Edit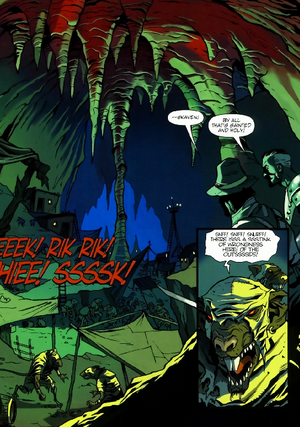 Each Skaven settlement is different, reflecting the personality of the clan or clans that call it home. Given that the Skaven psyche is invariably linked to Chaos, no two Skaven cities are built to the same specification. Some sprawl out over a great distance, while others are compressed areas of intertwining tunnels and passageways that loop and twist over and beneath one another like knotted and tangled ropes. Skaven settlements are defined by their sizes and populations, much like Human cities, towns, and villages are. The largest settlements are, unsurprisingly, referred to as cities. Skaven cities are sprawling complexes that are, in large part, self-sufficient. These metropolises can easily accommodate from 10,000 to 50,000 Skaven, though population varies depending on the current political climate.[1d]
A Skaven city often has up to twice the number of residents as its mirror Human city on the surface; in times of great plenty, the population may be much, much higher The next most populous Skaven settlements are referred to as warrens. Warrens are the equivalent of Human towns in size and composition. While not completely self-sufficient, they are typically able to support themselves so long as they can trade with other settlements for products they do not produce. The population of a Skaven warren can range from 1,000 to 10,00( Skaven strong. The smallest of the Skaven communities are commonly called nests.[1d]
Nests are akin to villages and hamlets on the surface world, and they are often closely tied to a nearby city, warren, or stronghold. Nests are rarely home to less than 50 individuals, with the largest of them providing shelter to as many as 1,000 Ratmen. Nests are commonly affiliated with a single Clan or Warlord. Though they are not settlements in the strictest sense of the word, Skaven strongholds deserve some mention. Like the keeps, castles, and citadels of the surface world, strongholds are easily defensible dwellings often at the centre of Skaven communities. They are veritable fortresses with carefully restricted access points and brutally effective defences. If they are not incorporated into a warren or city, strongholds are traditionally affiliated with client nests that provide labour, revenue, and conscripts.[1d]
Architecture
Edit
Skaven cities are massive, with a perplexing number of structures packed into a small place. However, Skaven are not great builders; they see things in the short-term, slapping together make-shift hovels that serve the moment. Skaven would rather steal a home than build a new one. And if a neighbouring home cannot be stolen, the spiteful Ratmen have no compunctions against burrowing beneath it to sink it. Skaven cities therefore tend toward ramshackle collections of debris and detritus. Skaven use wood, dung, and mud as their materials. The only thing that keeps these buildings from falling down is the skill of the slaves that shore up and rebuild them. Few structures have foundations, and if so, it's because a Human or Dwarf builder thought to incorporate one.[1d]
As a result of this shoddy architecture, fire is a big threat, and buildings collapse all the time. Style depends solely on the workers. Humans and Dwarfs bring their views and talents to some buildings, but such structures are reserved for the important Skaven. On occasion, these buildings might be built on sensible lines, along paths or even roads, but again, such quality stems from slave ingenuity and never Skaven forethought. Even the better buildings are rarely finished, given the life expectancy of slaves and even the Skaven themselves, so most settlements are collections of incomplete and plundered structures.[1d]
The only exceptions to these slapdash and dangerously precarious structures are the temples of the Horned Rat. Ostentatious amounts of Warptokens, slaves, and materials are granted by status-seeking Skaven wanting to curry favour with the Grey Seers. These temples usually have a tower and bell—the tower has thirteen storeys, which represents the Council. Beneath the temple is a labyrinth, which is used as a divinatory tool as well as a method of initiation for Apprentices as well as an excellent mode for executing undesirables. The maze is sacred to the Horned Rat, and those that can find their way through it are deemed to have been guided by the will of the Skaven God.[1d]
Those who become lost or die in one of the many traps have clearly been abandoned by their God and are thus worthy of death. Needless to say, there are many traps, shifting walls, and hidden passages in these mazes. The Skaven, as a species, are not overly fond of right angles. Instead, they prefer tunnels that are smooth, rounded, and almost organic in appearance. Depending on the purpose of a particular passage, its size can show a great deal of variation. Tunnels designed to accommodate individual Skaven are often no larger than five feet in diameter. Given the compact and lithe physiology of the Skaven, this provides more than enough room for them to manoeuvre. Large thoroughfares, on the other hand, are designed with vehicles and large crowds in mind, and can be nearly any size at all.[1d]
The mining of tunnels and passages is relegated to captive labour, be it Skaven, Human, Elf, or Dwarf. Excavation techniques are, by and large, simple. Shovels, picks, trowels, and other hand tools are used to dislodge and move large amounts of earth, stone, and rock in order to create passageways. Larger Skaven settlements skilfully incorporate massive natural caverns, in addition to Skaven-made tunnels and chambers. Craftsmen (or craftsrats, sometimes) assist in finishing the tunnels, ensuring that they are stable and visually pleasing. Of course, the aesthetics of the Skaven often leave a lot to be desired, especially by the standards of other subterranean races such as Dwarfs.[1d]
Since they spend much of their lives in proximity to their broodmates, Skaven are not accustomed to privacy. As such, doors are an uncommon sight in the Under-Empire. Many high-ranking and influential Skaven seal their personal chambers with wooden or stone doors, or with iron bars and gates, in order to keep unwanted trespassers and ictitcins out. Privacy is not considered a luxury available to the likes of the masses, however. The Skaven also have little use for windows, so they are rarely, if ever, incorporated. The only exception to this is in defensive fortifications, such as arrow slits and murder holes.[1d] The sleeping areas used by the Skaven are communal in nature, and are often dictated by clan affiliation. Skaven construct bedding and nesting areas out of anything that they can scrounge, from mouldering straw, to animal skins and furs, to old clothes and discarded cloth. Position in these communal sleeping areas is largely dependent on an individual Skaven's social status, with the most influential sleeping closer to the top of the pile. Areas with high concentrations of Skaven living in them smell very strongly of rat urine. This is due in part to the fact Skaven leave small markings wherever they go. Skaven have little difficulty identifying their own marks by scent, as well as the marks made by their kin and associates. Skaven have no concept of privies. Just about any spot of open ground that is even slightly out of the way is an appropriate place for a Skaven to relieve himself.[1d]
Strongholds
Edit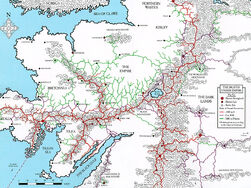 The Skaven race has innumerable strongholds and burrows from every corner of the entire Old World. Though most of these are usually just collections of smaller villages and nest-lairs, the more larger and prosperous cities are formed near other population centers, growing fat and wealthy by the scavenging and stealing of the surface dwellers wealth. Most of these cities would sometimes have their very own small Council of electives, each a representative of other Skaven clans that has previously stake claim to the city. With so many Skavens from different clans all in one place, the results ensured that there will always be a massive power struggle within the governing system as numerous Chieftains and influential politicians fight, kill, and assassinate their rivals to gain more control of the city. This has ensured that nearly all Skaven cities will tinker to the brink of Civil War, but only the fear of intervention by the other Clans swayed the hands of many ambitious War-leaders.
Strongholds within the Clan-Empire (The Empire)
Edit
Stronghold within Norsca
Edit
Strongholds within Bretonnia
Edit
Strongholds within Tilea
Edit
Strongholds within the Dark Lands
Edit
Strongholds within the Vaults
Edit
Strongholds within the Dwarven Empire of Karaz Ankor
Edit
Ad blocker interference detected!
Wikia is a free-to-use site that makes money from advertising. We have a modified experience for viewers using ad blockers

Wikia is not accessible if you've made further modifications. Remove the custom ad blocker rule(s) and the page will load as expected.