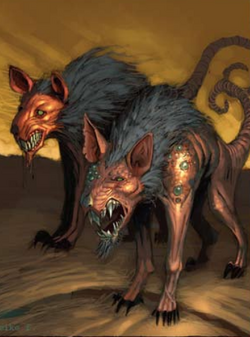 Rat-Wolves
 or
Wolf Rats
are distinctive creatures, blending the appearance of both Skaven and Wolves. Covered in a thick pelt of grey fur flecked with white, they have shorter legs than their Skaven ancestors, keeping them low to the ground and suggesting that they are always ready to pounce. Their natural gait is to move on four legs, which only makes their ability to clumsily grasp and manipulate objects with their forepaws that much more horrifying. Their tales are long, pale, and naked of fur, and they have broad rat-like heads filled with sharp yellow canine teeth.
[1a]
In times long ago, Clan Moulder experimented with combining their Skaven blood with that of the great wolves of Kislev. The result was a bloodthirsty monster of such foul temperament that the Master Moulders could hardly contain it, much less train it for war. They managed to wipe out nearly all of the creatures, but despite their best efforts, a few escaped into the tunnels of the Under-Empire. In the intervening years, some escaped altogether, but a few remained behind to hunt their Skaven creators.[1a]
Miniatures
Edit
Ad blocker interference detected!
Wikia is a free-to-use site that makes money from advertising. We have a modified experience for viewers using ad blockers

Wikia is not accessible if you've made further modifications. Remove the custom ad blocker rule(s) and the page will load as expected.